In 1979 a few Luxembourgish amateur radio operators, which were all members of the RL, had the idea to form an own little section with the aim to boost the radio activity in the South of Luxembourg.
On March 30th 1979, the ADRAD Kayldall (Association Des RAdioamateurs Du Kéldall) was founded. The committe was set up by:
President: Simone MICHAUX, LX1SM
Vice-president: Raymond REIFF, LX1RR
Secretary: Claude ROB, LX1CR
Treasurer: Raymond MAHR, LX1MK
Member: Germain SCHUTZ, LX1SG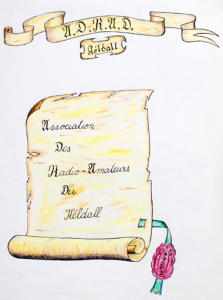 A little bit later, the ADRAD Kayldall counted already 30 members. On March 19th & 20th 1979 the ADRAD organized the first amateur radio operator meeting in Rumelange in the place called "Gebrannte Bösch". A lot of Luxembourgish amateur radio operators but also amateur radio operators from abroad came to pass a few comfy days in Rumelange.
In May 1981, the ADRAD started with the construction of the radio mast for the 70cm-Relais, after a year passed by to obtain all permissions. The radio mast, a discarded pylon of the Compagnie Grand-Ducale d'Électricité du Luxembourg S.A. (CEGEDEL), was dismantled bit by bit by a special company in Bascharage. All pieces were then transported to Rumelange where the ADRAD reassembled the radio mast again.
In June 1984 the ADRAD made a visit to the HAM RADIO in Friedrichshafen:
Here are a few pictures of our meetings in the 1980's:
Here are a few pictures of our meetings in the 1990's:
From 30th June until 1st July 1990 the ADRAD visited the HAMRADIO Friedrichshafen: